A Fully Wireless Communication System for Covert or Special Service Units
A fully wireless communication system for special/covert service units, developed in accordance with the exacting operational requirements of law enforcement and special forces. Its design allows users to conduct safe, efficient, and secure communication. InTouch Covert is compatible with a wide range of radio communication devices allowing for reliable and continued communication while on foot or motorcycle. Highly durable in all weather conditions and super easy to maintain, it guarantees many years of consistent use.
Benefits
InTouch components are based on innovative technology coupled with the highest building standards, making them durable and reliable throughout time and weather conditions.
Incorporates extensive construction flexibility making it easily adjustable to specific requirements.
Allows hands-free communication when moving on foot.
Widely used by major intelligence agencies and special operations units where concealed communication is required.
System Features
A highly durable system enabling clear speech and hearing quality.
Full wireless connectivity between system components.
Compatibility with any mobile phone equipped with BT and with many radio brands equipped with an accessory connector.
System Components
A wireless communication neckloop
An inductive concealed earpiece
PTT (push to talk) button
A wireless dongle
Key Features
Clear speech and hearing quality
No external noise disturbances in high speed and/or high external noise (engine, motor, wind, etc.).
Interference-free working capacity
Interference-free working capacity of several InTouch Covert systems operating in proximity.
Compatibility with mobile phones and radio devices
Compatible with any Mobile phone equipped with BT.

Compatible with many radio brands such as Motorola, Airbus, Kenwood, iCome, Sepura, and any radio equipped with an accessory connector.
Robust and durable enclosure
Suitable for high-impact environments.

 

Ability to withstanding the following working conditions:

Shock

Direct sunlight

Operating temperature range: -10° to 60°C

Storage temperature range: 10°to 70°C

Humidity and rain-proof: IP65

Salty environments
System Components
Wireless Communication Neckloop
 

Tiny and comfortable wireless neckloop hidden under clothes.

 

Electromagnetic Induction.

 

Incorporates a minute, high-quality, sensitive mike.

 

Incorporates a rechargeable battery with 72 hours of operating time.

 

Includes sound enhancement amplifier and software for sharp and clear sound.

 

IP65

BT 4.1
Concealed Earpiece
Inductive concealed earpiece
 

Designed to fit comfortably unseen in the ear canal.

 

Full connectivity through electromagnetic induction with communication band.

 

Most inductive earphones are compatible/operational with the system.

 

100db

 

100H Power-on time!
 **InTouch works with any induction earpiece in the market
Push to Talk PTT Button
Portable and wireless PTT (push to talk) button
 

Supplied in different sizes and shapes such as a car key, remote control, and others.

 

Rechargeable.

   A unique

feature allows pairing with a single IP address to ensure disturbance-free operation.
* The PTT button contains electronics and SW specific for the solution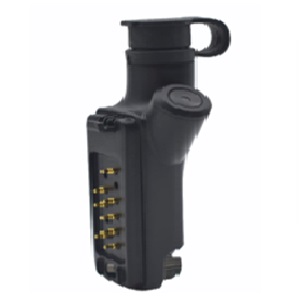 Wireless Dongle
Enables BT communication to wireless PTT and to wireless neckloop at the same time.

Power consumption directly from the radio, and in some cases through an internal rechargeable battery.

Small and tiny not affecting the radio size.

Compatible with any radio type.